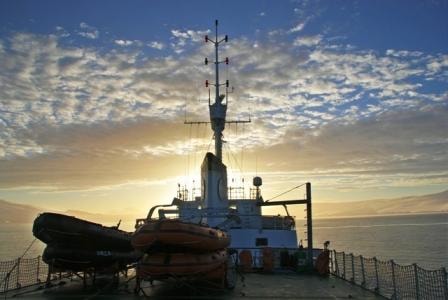 We're (unfortunately already) back in the civilisation (ushuaia to be exact) and survived the drake passage two times. It were wonderful and fantastic 9 days down there. We had almost always amazing weather and saw tons of wildlife (penguins and other birds, seals and different whales), bizarre icebergs and most beautiful landscape. The people - the staff and the other passengers - on the boat "Antarctic Dream" were also very nice and enjoyable. It certainly was a voyage we will remember for a long time.

To give you some first impressions, I'll post some unprocessed highlights of the journey in no particular order (and small resolution to ease my mobile bill for this month :) ). I will post more and larger pictures and a journey map at the beginning of january, when we're back in Zurich.

Now, we will stay in Ushuia for 2 nights and then do the long trip back home.

And last but not least and with some big delay, Sabine and I are wishing all of you a marry christmas and a happy new year. See you back in Switzerland.

The picture shows our boat from the open deck in the middle of the drake passage in most beautiful and calm weather on the way south.